Waze Ads
Did we mention we're data nerds?

If your company is in the right sector, then Waze can bring that traffic on the road to your business. We are Waze certified and part of the Waze Partner Program, so we are here to help any business manage their advertising. We can help you with Branded Pins, Takeover Ads, and Promoted Search.
We are Waze Certified!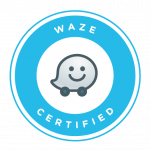 Branded Pins: when your location is relayed to drivers whenever they drive near a branded pin on the map. They are also very inexpensive.
Takeover Ads: a digital billboard covering the top part of the screen. This lets the driver know where you are located and if you have any promotions going on.
Promoted Search: when your company is promoted to the top of the search results, including your business name and brand logo.
Packages
Our packages are designed to take what your company already offers and expand it. We can also build a complete digital marketing solution from the ground up. We're flexible enough to have a solution for any size business, and we're forward-thinking enough to help you lay the foundation for new customers.
SEO
Content is king in the digital marketing world! Gain more organic searches by optimizing your website through blog, content creation and more.
Advertising
The days of billboards are far behind us! Reach your target audience across all platforms such as search, social media, Amazon, Waze and more.
Social Media
Engage with your audience through the modern customer service platform! Instagram and Facebook easily manageable with weekly posts.